I am extremely impressed with Scott's work and cannot stop admiring my wall! He put together a large gallery wall using just a photo I showed him for inspiration, and beautifully translated those ideas into the space with such care and precision. I cannot recommend this service enough – to have a professional that can not only mount frames accurately, avoiding electrics in the wall, but also combine that skill with genuine artistic flair, is well worth it. Extremely professional, thorough, and fantastic value for money. Thanks!
Claudia Haavik, Kensington, London, January 2018
————————————————————–
Very happy with the service – efficient and professional. Scott gave useful advice on how and where to hang our pictures. Would definitely use again!
Caroline Parkes, London, December 2017
————————————————————–
I am absolutely thrilled with Scott's work! He did such a fantastic job and was most pleasant.
Honestly it was the best received birthday present for my boyfriend.
Jess McMicking, London, November 2017
————————————————————–
We were very happy with our hanging. Scott was very professional and made us at ease over hanging our heavy mirror. He is experienced and he did the job in no time at all! He even offered to help us hang up any extras around the house which was very kind. I would definitely recommend him and will be using him again when needed. Thank you!
Mary, Tower Hamlets, September 2017
————————————————————–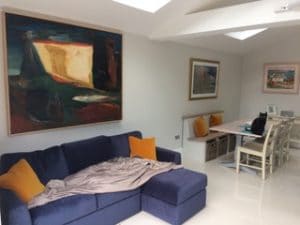 Delighted to use the Picture Hanger to (finally) get everything on our walls. Scott was patient and had a great eye for setting everything out – so pleased to enjoy our art safe in knowledge it is hung securely and positioned perfectly.
Mark, Loughton, Essex, September 2017
————————————————————–
Scheduling was easy and convenient. Scott did a great job and walked me through every step he was doing – the end result was exactly as I wanted.
Even though my house is very uneven with slopes all over the place, the pictures and mirrors all look perfect where they have been hung.
If I had tried to do it myself, it would have taken three times as long and probably with botched results.
Would highly recommend and will use this service again.
Anita, Fulham, London, September 2017
————————————————————–
I was planning on using a handyman, but I am very happy that I decided to use the Picture Hanger instead. The service provided by Scott was great and I am very pleased with the result. I will definitely recommend the Picture Hanger and use them again.
Anton, Finchley, London, September 2017
————————————————————–
I was recommended The Picture Hanger by a friend who had turned to them following bad quality jobs done by the likes of Task Rabbit. This may be a slightly more expensive option, but the service is prompt, friendly, knowledgeable, and the end product always first class. Both times I have used them I have had Scott, who is easy going and very helpful with advice on both where and how to hang various pictures. I would not hesitate in either recommending them or using them again.
Anonymous, Streatham, London, April 2017
————————————————————–
Scott was a very safe pair of hands, and was happy to give a second opinion when needed. Would happily use the service again.
Michael, Hackney, East London, April 2017
————————————————————–
Just to let you know we were delighted with Scott's work – his assistance and advice was much appreciated and our flat looks all the better for having our pictures professionally hung. Scott was prompt, courteous and communicated very well with us. We would happily use his services again.
Jane, Crouch End, London, February 2017
————————————————————–
I was very happy with Scott's work. He took time to discuss and consider the various compositions with me and ensured each piece was hung perfectly.
S.W., Dalston, East London, January 2017
————————————————————–
Scott did a great job and the pictures all look fabulous.
Anthony, North London, December 2016
————————————————————-