I feel extremely blessed to have been able to attract the most genuine, honest and reliable bunch of talented individuals to work with me and my clients. The stories of how I've come to meet and work with each one is totally unique to each person and I couldn't have planned it any better if I had tried. For the most part I didn't set out to find people to work with me – they all came along at just the right time and have enhanced the business no end. I truly hope you'll find working with them as rewarding as I do.
Patrick Donohoe, Founder of The Picture Hanger
Patrick Donohoe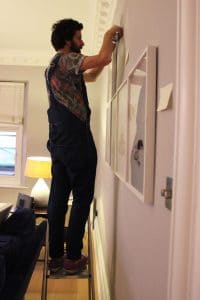 Born and bred in Sydney, Australia, I've been hanging pictures and installing art since 1998, working for various galleries and institutions while an undergraduate at the College of Fine Art, University of New South Wales. In 2008 I moved to Brighton and soon after set up The Picture Hanger. I live in the Hanover area of Brighton with my partner, Anna, and my lively young son, Hugo.
Most days find me working with both domestic and commercial clients in Brighton, London, the home counties, and beyond. I'm a practising artist and also co-director of APEC, an artist run studio complex in Hove.
I'm also a keen practitioner of Hatha Yoga and meditation.
Scott Cowan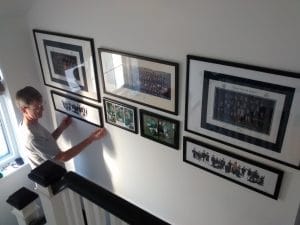 Scott (from Scotland) joined The Picture Hanger in early 2015 as our main London based art installer and now works with clients all over the UK, though is mostly London based.
Having recently qualified as a Craniosacral Therapist, Scott has also been teaching Tai Chi for over 20 years. He is also a keen meditator. As such his spatial awareness and sensitivity is second to none.
Scott's previous career was in the RAF, working as a dental technician. Honed over 15 years he brings his eye for detail, precision and care with materials to every picture or mirror hanging job.
I met Scott over 15 years ago on a meditation retreat. He is one of the nicest souls one would ever care to meet and clients find him a joy to work with.
Emily Badescu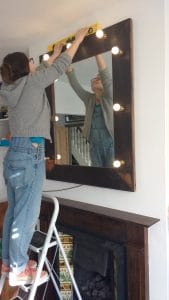 Picture hanger by day, artist filmmaker by night. Emily joined the company in Autumn 2016, having moved to Brighton after graduating from the BA Fine Art course at Chelsea College of Arts. She is a motivated emerging artist of many talents, in the past having dedicated her creativity to producing films, decorating music festivals, making jam, and playing the role of a unicorn in a performance piece. Her critical eye and artistic training lends itself perfectly to picture hanging and arranging. I am thrilled to have her onboard.
Patrick Dewar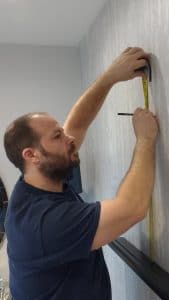 Having two Patrick's in the same company never fails to get confusing! Patrick Dewar has been working with us since summer 2016. Previous to hanging art and mirrors Patrick was found in his West Sussex carpentry workshop, designing and selling his own range of furniture and home accessories. He is super efficient, super practical and great at solving tricky hanging challenges!
Matt Hodgson
If I had the time to write the full and unedited life story of one of my colleagues it would be Matt. Hailing from Enfield in North London he has had an even more chequered and fascinating work history than me! Working for most of his life a professional actor and musician (drummer) he performed for many years in the West End musical Buddy, as well as in numerous pantomime performances up and down the UK, as an Ugly Sister in Cinderella no less! He's also had stints living and working as a jazz drummer in London and Berlin. As well as working with The Picture Hanger he currently runs his own successful marquee business throughout Sussex. Matt is also an experienced carpenter, working mostly with reclaimed timber, and has for many years made beautiful Steiner Waldorf inspired children's toys. He also performs with his wife Jack in a lovely acoustic trio, The Kites.
Francis Voss
Francis joined the company in winter 2016, having also graduated from Chelsea College of Arts, he lives and works in London. Francis is a talented painter, sculpture and craftsperson having made stools, shelves, and stocks as part of his art practice. He is also keen rock climber, has an extensive knowledge of dinosaurs, and the only thing surpassing his passion for the medieval is his passion for making pasta sauce. He is an all round life skilled guy and a great addition to the team.